Chances are, if you're like 61% of households in the U.S., you've been camping and now a camping hammock stand is here to dramatically improve your camping comfort. Whether its for sleeping at your campsite, relaxing during the day with a book or having a place to sit and eat, a camping hammock stand is the revolutionary way to camp.
How A Camping Hammock Stand Will Improve Your Sleep
The joys of hammock camping are well known by seasoned travellers, especially those who love the great outdoors. They are portable, easy to set up and make your camping experience extremely comfortable.
If you're like me, you've probably tried every sleeping option available when camping, trying to get the perfect nights sleep. From air mattresses that deflate half way through the night to rigid framed stretchers or those roll up/self-inflating mattresses which, lets face it, hardly put anything between yourself and the hard, uneven and cold ground. A camping hammock stand will change all this, getting you up off the ground and providing a comfortable cocoon to sleep in.
Why A Camping Hammock Stand Is Better Than A Regular Hammock without a stand
A camping hammock stand also allows campers to set up a hammock in places where they may have usually run into trouble finding a suitable spot. Whether camping or pursuing other outdoor activities, the problem that often occurs for those with a regular hammock is lack of spots to hang it from. Usually you are dependent on natural places like trees or man made structures like building posts and poles, the latter of which is rarely found at a campsite other than in communal areas such as bathroom facilities or camp kitchens. We have developed tips on how to hang a hammock without trees, but as you will see in the post, alternative solutions are limited and a hammock stand really is the way to go.
Finding a suitable tree to set up the hammock is quite tricky. Too often, when we are camping in natural surroundings, the trees are either too close together making the hammock too low or they are too far apart where one of the two ends of the hammock cannot reach.
There is also the issue of finding trees strong enough to hold the weight of one or even two people wishing to use the hammock. Then there are additional limitations such as camp grounds who may not allow campers to suspend hammocks because they wish to protect the trees, especially if it is a national park.
These are the times where the camping hammock stand will solve all your problems. With a camping hammock stand, you can practically set up the hammock anywhere in your campsite. They can also be good alternatives to tents which can be cumbersome to set up and take up more space, not to mention camping hammock stands are compact to carry to campsites or spots you might find when hiking. Spend the night swaying away under the stars in your camping hammock stand and experience ultimate sleeping luxury when it comes to relaxing or sleeping while camping.
Types Of Camping Hammock Stands
When it comes to choosing a camping hammock stand, there are a few different options available. The most popular choice is an accordion style camping hammock which simply unfolds, expands and locks into place.
Another option is your traditional canopy hammock and steel frame. These require a little more effort as they are generally heavier and need the frame put together, although this only takes a few minutes.
Lastly, you have the option of a truck hitch hammock which simply slots into the hitch of your truck, SUV or Jeep and comes in traditional canopy as well as hanging chairs. Read more about Truck Hitch Hammocks here.
For comfort around the camp fire, you should also check out our portable folding hammock chair reviews here.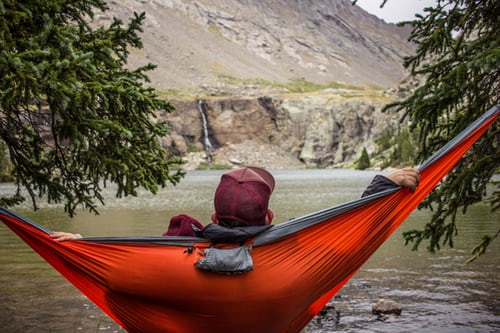 Where To Use A Camping Hammock Stand
Improve Campsites: There are times when there's no location available for you to set up your tent at the campsite or maybe the location that you are at doesn't have a suitable structure such as trees or posts to hang a normal hammock. This is where a camping hammock stand comes to the rescue. These portable and durable stands allow you to make use of small campsites, clearings and hiking sites without trees or suitable support for traditional hammocks.
Truck Camping: You can also install hammocks which are specially designed for vehicles called truck hitch hammocks. With this handy camping hammock stand, you can set up a camp anywhere you take your vehicle as it simply attaches straight into the hitch of your truck. This setup is the best choice for when you go on a road trip. 
Beach or Desert Trips: Some of the most beautiful camping spots are found within the desert or on the beach. Going camping in these locations can be difficult as tents need special pegs and sand conditions to be set up without falling down or blowing over and there is often no trees to hang a traditional hammock. A camping hammock stand can make beach and desert camping a breeze by setting up anywhere and providing a comfortable place to enjoy the beauty or sleep under the stars. 
Events and Festivals: When you go to a festival, whether it's a music festival, food or any outdoor event you can save a lot of money by setting up a tent at a nearby campsite or sometimes even at the festival site itself. Camping has become a must for those wanting to really enjoy everything a music festival has to offer.
Camping hammock stands make festival camping super easy as they take minutes to set up, take up little space and offer a comfortable place to sleep when there are no trees nearby.
Our Favourite Camping Hammock Stands
We've sources the best products available to purchase online to make sure your next camping trip is a successful one, with a great nights sleep.
The Mac Sports Outdoor Indoor Collapsible Portable Hammock with Stand has a heavy-duty steel frame for durability and double attachment on each end to prevent tipping. It comes with a comfortable pillow, as well as a mesh net beneath the hammock to hold your personal items such as Bluetooth speaker, wallet, phone or backpack. The best thing is there is no assembly required as this portable camping hammock unfolds in less than 10 seconds and also comes with a carry bag with wheels, making it super easy to set up and transport. You can even purchase with a removable canopy for sun protection and shade.
PROS:
Supports around 225lb
Easy to set up
Comes with wheelie carry bag, pillow and storage net
weighs less than 30lb
Options to add camping stools or removable camping hammock canopy 

CONS:
Not as long as some options at only 88.6″
The Vivere Double Cotton Hammock with Space Saving Steel Stand comes in a huge range of fabric choices and colours and easily holds two people with a combined weight of up to 450 pounds. It's compact 9 foot frame, makes it a great choice for camping whether you want to be able to fit it inside your tent or save space in your campsite. This hammock stand takes minutes to set up and doesn't require any tools, and also comes with a carry bag, making it easy and portable.
PROS:
Seats 2
450-pound capacity
space saving 9′ stand
range of colours and frabrics
carry bag included

CONS:
not as quick or easy to set up as some options
Can be heavier to carry
The Pure Garden Portable Hammock with Stand has a 250 pound capacity and is made of durable canvas making it soft and comfortable. This camping hammock is super easy to assemble by unfolding the frame, inserting the hooks into the base and sliding the hammock loops over the hooks. It's carry bag is a convenient backpack style, making it ideal for travel and hammock camping.
PROS:
Supports 250lb
Easy to set up
Convenient backpack carry bag
soft, durable canvas

CONS:
No extras like pillow or cargo net
The Giantex Portable Hammock with Stand is easily transported with its lightweight folding frame and carry bag. Made of powered coated steel, this camping hammock stand will remain rust and weather resistant for years to come. Curved supports make it comfortable and sturdy to lie on and it can be easily assembled by simple unfolding and hanging the end rings on the hooks.
PROS:
Supports 264lb
Easy to set up
Comes with its own carry bag
Curved supports for balance and comfort
rust and weather resistant

CONS:
No extras like pillow or sun canopy
The Hammaka Parachute Hammock Hitch Stand is the perfect camping hammock stand option for those with a truck to take camping. This option comes with both a traditional lay down hammock and hammock chairs so you can use for sitting, sleeping, eating and much more. Take it anywhere you can drive your vehicle by simply attaching to the hitch of your truck. Perfect for road trips.