Indoor hammock beds are increasingly being viewed as great substitutes for mattresses and typical bed frames. Their unrivaled comfort and compact design, as well as their unique presence in a bedroom, are appealing to folks. This holds true for those wishing to get more hammock relaxation into their lives or break from the mattress norm.
Typically using stands which can be disassembled, the indoor hammock bed can also be a great space-saver. Disassembly means it can be stored when not in use. While in use, however, some hammocks (such as three of the four we mention in this article) can offer longer resting spaces than California king mattresses. This is fantastic news for very tall users!
Those hammock beds without stands are mounted via hooks or other means decided by the user. Those less-handy hammock fans might want to aim for an indoor hammock bed with a stand. However, even the most skilled do-it-yourselfers can benefit from the use of a hammock stand.
While sleeping in a hammock bed, the user has to ensure they sleep in the proper position to provide back support. A Reddit user, having done an "Ask Me Anything" about sleeping in a hammock every night (Due to interest: I sleep in a hammock instead of a bed. AMA. from IAmA), gave proper advice to this effect. Also, not all hammocks are made to be slept in all night every night. Take care in your choice of indoor hammock bed, especially if you plan on switching to a hammock permanently.
Why Buy an Indoor Hammock Bed?
Whether you're looking for an affordable alternative to a mattress set for a guest room, or you're just considering a change of sleeping environment for yourself, an indoor hammock bed can be a great source of happiness in your home. If you're still on the fence about purchasing a hammock bed, several people on Reddit have made the switch from mattresses and regret nothing. For example, one user wrote of the transition from normal beds to hammock beds:
"Got a hammock instead of a bed, I'm in love" from minimalism
With quotes like that, who could say no to an indoor hammock bed? Users are often positively surprised by their experiences from sleeping in hammocks instead of beds. So, if you're looking for suggestions, HammockChillout is here to help! Here are a few of our favorite hammock beds on the market.
Indoor Hammock Bed Reviews
If you're looking to hang your hammock between a couple walls or you already have a hammock stand, these are a couple options you should consider.
The Hammock Sky Brazilian Hammock is built for two, durable, and portable. Accommodating weights up to 475lbs, with a resting space 12'2″ long by 4'11" wide, this hammock is comfortably ideal for couples. As with many other indoor hammocks, this model can be used outdoors (and if you do, maybe consider getting a tent for it!), so if the mood strikes to go camping one day, you can take this piece of home with you! This model, however, does not include any fasteners, straps, or any way to hang the hammock, so be sure to find some hooks or a stand for this one.
Features:
Seats 2
475-pound weight capacity
12'2″ x 4'11" resting space
Cotton/Polyester

Indoor Hammock Bed with Stand Reviews
If you have no means to support a hammock, if you plan on moving where the hammock lies frequently, or if your walls are too spaced out to attach the hammock between them, an indoor hammock bed and stand set is likely the way to go.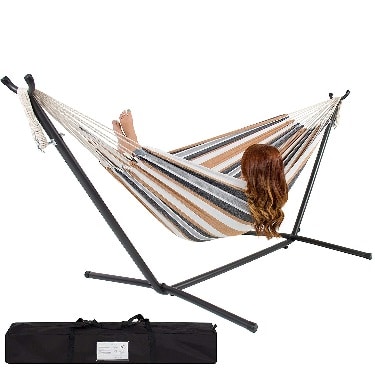 The Best Choice Products Double Hammock and Stand Set comes with a steel stand. Spared the trouble of finding places to hang your hammock bed, you can simply assemble the stand, hook the hammock to it, and promptly drift into dream land. It's built to endure the elements, so if you feel the urge to take this model outdoors, then by all means do so! It's 100% cotton fabric is comfortable and holds up through plenty of use. The stand can be put up and taken down within just a few minutes, so temporarily taking your hammock bed down for more space during the day is completely reasonable. Taller users, however, might find it difficult to fit into this one.
Features:
Seats 2
450-pound capacity
6'4″ x 4'9″ resting space
9′ stand
Cotton

The Vivere Double Hammock comes with a steel stand which is also easy to set up and requires no tools. The difference between these two models can be seen in the size of the bed area for each hammock. Where the Best Choice Products hammock bed has a 6'4″ x 4'9″ resting space, this Vivere model sports a 7'10" x 5'3″ resting space, which is considerably longer and marginally wider. This would be an ideal indoor hammock bed choice for taller users, especially those over 6'4″.  Besides ours on HammockChillout, this model boasts some really positive reviews on Amazon, so we highly recommend checking this one out!
Features:
Seats 2
450-pound capacity
7'10" x 5'3″ resting space
9′ stand
Cotton