When it comes to a forest adventure, there are certain special tools that will make the adventure memorable with maximum added comfort. One of those perfect tools is a hammock, which will help you relax while swaying between the trees. Hammock straps help you to hang your hammock between two trees, on your lawn, or even on your porch. However, you need the best hammock straps to make the job easier. In this article, you will discover some of the best ones available on the market.
These 10 feet long, 1-inch wide hammock straps are perfectly tree friendly and come with 100% un-stretchable polyester, heavy duty triple stitched seams, and a set of 2 straps with drawstring bag. The easy to install steps take only a few minutes to get up and hanging. These are the best hammock straps to enjoy a stress free hammock setup with the limited hanging options that it has. At a relatively low price, rest assured that you can buy this product within a budget friendly price.
The Pros
Heavy duty and extra long
Lightweight suspension kit
Easily adjustable
100% polyester
No-Stretch Hanging
The Cons
Can't use them on walls
Requires space
Must secure good knots
Comparing the pros and cons of the HangTight Hammock Tree Straps Set, this is a great hammock tool for you that won't hurt the environment and will give you extra comfort wherever you want it. If you're into camping or the great outdoors, this will be a worthwhile investment.
Bliss Tree Straps are tree friendly straps with several ideal features to hang your hammock during your camping trip. Whether you're at the pool, or just have a couple posts in your yard, these are the best hammock straps that are suitable for camping, travel, boating, or just lounging in your backyard.  The quality nylon makes this strap trustworthy and easy to fit in your backpack.
The Pros
Easy to use
Best for outdoor area
Tree friendly
Lightweight
Weather friendly
The Cons
Can't be used on walls
Requires space
These tree straps are perfectly adjustable and best for rapid set up and fast removal of your hammock. The heavy duty, weather resistant, polypropylene webbing makes the new straps durable for a longer period of time. Polypropylene is ideal webbing for tree bands, having a stronger suit and stretch resistance.

Eagles Nest Outfitters Atlas Straps are great hammock straps that are perfectly made for camping, backpacking, or travel. Their ultra-light weight and compact features make them better than other similar products, especially when you're on the go. There is a set of two solid tree friendly straps included for quick and easy setup. The very easy to setup straps allows removal in seconds with 1-inch Poly-Filament Webbing features included.
The Pros
Safely supports up to 400lb
Tree friendly
Most adjustable
Set up and takedown in seconds
The Cons
Can't use them on walls
Requires space
Must secure good knots
The ENO Atlas Hammock is a trusted hanging strap system to give you maximum comfort. You don't need to worry about the durability of these straps as polyester and un-stretchable material make it useable in any conditions. The set of two straps have power to support up to 400 lbs. No need to tie a bundle of knots for protection.
The best hammock to use outdoors comes with triple stitching features, is durable, and perfect to use anytime, anywhere with 2 unbreakable polyester tree straps. The 9 inch long straps are easily capable of bearing 400lbs. This hammock strap comes in a great looking box, along with a hammock, beautiful bags and hooks. This is very light weight, but the strong polyester will never let you down while resting on your hammock.
The Pros
Unbreakable polyester
Light weight compact hammock
Best for outdoor use
The Cons
Stretchable material
Not good if you only need straps
High price because of hammock included
This is the complete hammock package, so if you tend to carry a lot of equipment, these will be a money saving investment to make your camping or traveling more enjoyable and reliable. This product is great to gift to a friend or family member who loves to enjoy traveling or camping.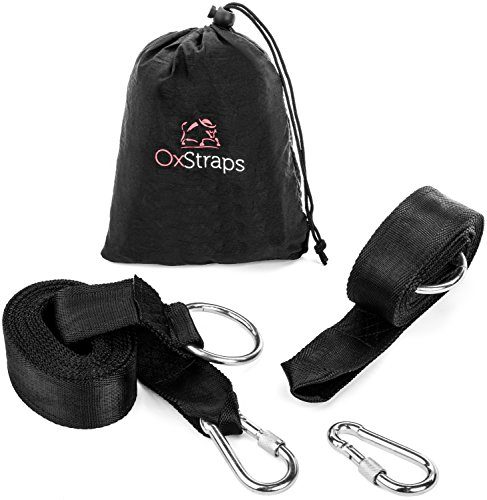 This outstanding quality hammock product is made with 100% polyester and is one of the best hammock strap packages to use for extended and frequent use. These are the only high capacity straps where a single strap can support 300lbs and two straps can bear over 600lbs. Each is highly durable and you don't need to worry about bending your hooks. Hammock tree straps from OxStraps are a highly impeccable camping tool to enjoy. The convenient carrying pouch makes it usable anywhere.
The Pros
Non-stretch durability
Adjustable and easy setup
Heavy duty hooks
Supports over 600lbs
The Cons
Can't use them on walls
Requires space
Using this hammock strap, you don't need to worry about the knots as they'll never let you down while resting on your hammock. The 100% polyester makes it durable and supports over 600lbs, so rest assured everyone can enjoy those smore treats while relaxing during camping, traveling or in their backyard.
Conclusion
The above shared hammock straps are chosen based on their user reviews, and each one has its own unique features that make them stand apart.
Choosing hammock straps with the best features is difficult from the above collection, but if you need more security and more durability based on the above reviews, opt for Hammock Tree Straps for Portable Camping Hammocks from OxStraps. It comes with 100% polyester and durable hooks to give you maximum protection.
However, the other hammock straps are perfect to choose, depending on your needs. If you need a complete package, including a hammock that comes with durable straps, you can choose the Only Outdoor Hammock with Unbreakable Tree Straps.