Brazilian hammocks are one of the many styles of hammock on the market. A Brazilian hammock is made from cotton fabric and built to endure frequent, repeated use. With strength rivaling the more traditional rope hammocks, they can support a wide range of weights, with typical limits upwards of 400 lbs. They tend to wrap around their users in a comforting embrace, while the rope type hammocks use spreader bars to flatten their beds.
Many Brazilian hammocks are designed with appearance as their top priority, as most models share the same general relaxing feeling with little variation. Fringes on the edges, while serving no functional purpose, are popular on some Brazilian hammock models. Some higher-end models sport hand-woven macramé towards the rope ends, giving them true decorative aesthetic value. However, even the most adorned Brazilian hammocks serve the overall purpose of being comfortable places to relax and rest your eyes.
Brazilian Hammock Features to Review
While these hammocks' appearances vary a lot, their comfort levels are usually quite similar. Brazilian hammock design usually results in very consistent coziness across most models. When you're seeking such a Brazilian hammock, you should keep an eye on these values in particular:
Hammock Size: this varies a lot between models. Note that it needs to fit the space in which you'll hang the hammock.
Bed Size: make sure you'll fit in the resting space (bed) of the hammock.
Weight Limit: will you (and anyone else who will use the hammock) be supported within the max weight limit?
Appearance: does the hammock look good? If you're going to see this hammock often, then you should probably like what you see.
Hanging Methods: is this a Brazilian hammock with stand, or just a hammock on its own? Make sure you have a place to hang it!
Notes for Hanging a Brazilian Hammock
Depending on the size of the hammock, the distance between your hanging points can be between 9 feet and 15 feet. Be sure to check the hammock manufacturer's recommendations for any hammock you'll be hanging on your own.
As a general rule to follow when hanging a hammock, the distance between your hanging points for the hammock should be about twice the height of those points. So, if the distance between the hammock's trees is about 10 feet, the hammock straps should be hung at about 5 feet up the trees.
Also note that many hammocks have a "stretching period" during which they may seem smaller than their advertised size. After a few weeks of use, the hammocks stretch to their normal size and may be noticeably larger than when first purchased. Some come with hanging straps that are adjustable, which make this period easier to manage. Other hanging methods may be less accommodating.
Brazilian Hammock Reviews
Here, we'll take a look at several different Brazilian Hammock models that caught our eyes. For quick information, we'll show you what you need to know in terms of sizes, weight limits, and hanging methods for each model.
The Hammock Sky(R) Brazilian Hammock Two Person Double is the most affordable hammock on our list. It shares the standard Brazilian qualities of being comfortable and embracing its users. It has minimal frills, bells, and whistles, so you get basic Brazilian hammock goodness at a reasonable price. It is considered an indoor-outdoor hammock, so you can feel free to listen to that random urge to take your hammock indoors for whatever reason. In fact, hammocks like this are often used as indoor hammock beds. It's great for one or two people, so consider it perfect for cuddling with that special someone. It is suggested you store this model in the included carrying bag between uses.
Features of the Hammock Sky(R) Brazilian Hammock Two Person Double
The Sunnydaze Brazilian Hammock model here, like other models, offers the relaxing cocoon environment this type is known for, while also coming with a convenient stand. The hammock itself comes in a variety of colors and styles, though like the previous model, this one has few additional aesthetic details. With this model, you'll at least get a better deal than you would purchasing the hammock and stand separately. However, couples looking for a hammock might need to take this model's lower weight limit into consideration.
Features of the Sunnydaze Cotton Double Brazilian Hammock & Stand Combo
Hammock Length (loop to loop): 132 inches (11′)
Bed Size / Resting Area: 98 inches X 59 inches (8'2″ x 4'11")
Weight Limit: 475 pounds
Hanging Methods:

stand included

.

100″ long x 40″ wide x 42″ tall
400-pound weight limit
5 adjustment settings, supporting hammock sizes between 10 and 12.5 feet
La Siesta is responsible for a couple of the most appealing Brazilian hammocks we've seen. This Brazilian Organic Double Hammock model is another extremely comfortable, durable design, and it also aims to please visually with macramé and fringes. It also comes in four different color options, three of which are very vibrant and cheery. We found it suprising that, despite the fringes and build materials, this one is machine-washable. It's great should you find your hammocks get dirtied or smell after extended use. It's generally much pricier than the previous models mentioned, and also supports much less weight than the previous two models.
Features of the La Siesta – Brazilian Organic Double Hammock
Hammock Length (loop to loop): 138 inches (11'6″)
Bed Size / Resting Area: 91 inches X 63 inches (7'7″ x 5'3″)
Weight Limit: 355 pounds
Hanging Methods:

none included

(minimum required distance for hanging: 10'2″)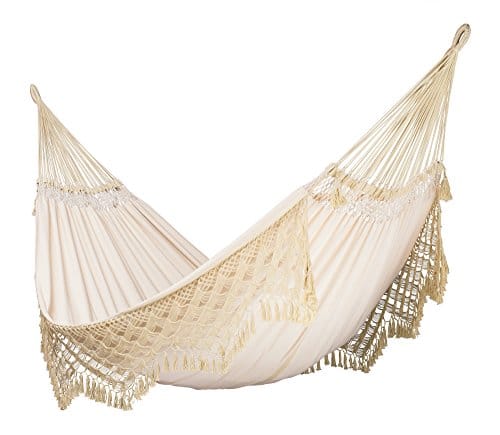 La Siesta's second Brazilian hammock on our list of reviews also happens to be the most attractive option in the bunch. As you should expect by now, this hammock shares the comfortable hugging design Brazilian hammock fans love, bringing the quality relaxation you'd expect of other Brazilian hammocks. This one, like the other La Siesta model, features fringes (which are beautiful, I might add) and macramé (impressive to behold) at the rope support ends. Besides being the most visually pleasing of the hammocks by design, this one also supports up to 440 pounds. This may fall short of one's expectation of "Family" hammock weight support, but this is still a great choice for a couple's romantic resting place!
Features of the La Siesta –
Brazilian Organic Family Hammock BOSSANOVA