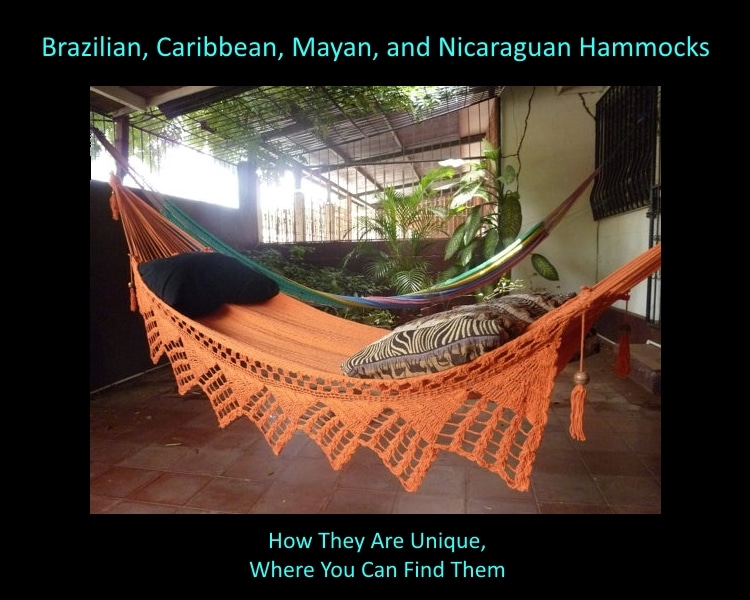 [toc]
We've looked at quite a number of hammocks at HammockChillout. With such a wide variety of hammocks on the market, it can become a bit tricky to pick your favorite (I'm crazy for the Mayan!). Here, we've covered the basics on Brazilian hammocks, Caribbean hammocks, Nicaraguan hammocks, and Mayan hammocks. We'll provide a quick overview of how these particular hammocks are unique, and then follow up with detailed reviews of each.
Brazilian Hammocks – These tend to envelope their users in a comforting embrace. They are typically ridiculously strong and large among hammocks.
Caribbean Hammocks – Wooden spreader bars and durable polyester fibers provide a unique, durable hammock type that is truly "tropical" in feel and appearance. They might not be appropriate for long-term sleeping arrangements.
Mayan Hammocks – Often brightly colored and hand-woven with very thin nylon material, these hammocks are incredibly comfortable and breathable, though may be easily damaged by zippers or buttons.
Nicaraguan Hammocks – Designed with aesthetic appeal in mind, these hammocks typically have fringed designs and are crocheted by hand in Nicaragua. They are, simply put, beautiful.
---
Brazilian Hammocks – Reviews
Brazilian hammocks are one of the many styles of hammock on the market. A Brazilian hammock is made from cotton fabric and built to endure frequent, repeated use. With strength rivaling the more traditional rope hammocks, they can support a wide range of weights, with typical limits upwards of 400 lbs. They tend to wrap around their users in a comforting embrace, while the rope type hammocks use spreader bars to flatten their beds.
Many Brazilian hammocks are designed with appearance as their top priority, as most models share the same general relaxing feeling with little variation. Fringes on the edges, while serving no functional purpose, are popular on some Brazilian hammock models. Some higher-end models sport hand-woven macramé towards the rope ends, giving them true decorative aesthetic value. However, even the most adorned Brazilian hammocks serve the overall purpose of being comfortable places to relax and rest your eyes.
Brazilian Hammock Features to Review
While these hammocks' appearances vary a lot, their comfort levels are usually quite similar. Brazilian hammock design usually results in very consistent coziness across most models. When you're seeking such a Brazilian hammock, you should keep an eye on these values in particular:
Hammock Size: this varies a lot between models. Note that it needs to fit the space in which you'll hang the hammock.
Bed Size: make sure you'll fit in the resting space (bed) of the hammock.
Weight Limit: will you (and anyone else who will use the hammock) be supported within the max weight limit?
Appearance: does the hammock look good? If you're going to see this hammock often, then you should probably like what you see.
Hanging Methods: is this a Brazilian hammock with stand, or just a hammock on its own? Make sure you have a place to hang it!
Notes for Hanging a Brazilian Hammock
Depending on the size of the hammock, the distance between your hanging points can be between 9 feet and 15 feet. Be sure to check the hammock manufacturer's recommendations for any hammock you'll be hanging on your own.
As a general rule to follow when hanging a hammock, the distance between your hanging points for the hammock should be about twice the height of those points. So, if the distance between the hammock's trees is about 10 feet, the hammock straps should be hung at about 5 feet up the trees.
Also note that many hammocks have a "stretching period" during which they may seem smaller than their advertised size. After a few weeks of use, the hammocks stretch to their normal size and may be noticeably larger than when first purchased. Some come with hanging straps that are adjustable, which make this period easier to manage. Other hanging methods may be less accommodating.
Brazilian Hammock Reviews
Here, we'll take a look at several different Brazilian Hammock models that caught our eyes. For quick information, we'll show you what you need to know in terms of sizes, weight limits, and hanging methods for each model.
The Hammock Sky(R) Brazilian Hammock Two Person Double is the most affordable hammock on our list. It shares the standard Brazilian qualities of being comfortable and embracing its users. It has minimal frills, bells, and whistles, so you get basic Brazilian hammock goodness at a reasonable price. It is considered an indoor-outdoor hammock, so you can feel free to listen to that random urge to take your hammock indoors for whatever reason. In fact, hammocks like this are often used as indoor hammock beds. It's great for one or two people, so consider it perfect for cuddling with that special someone. It is suggested you store this model in the included carrying bag between uses.
Features of the Hammock Sky(R) Brazilian Hammock Two Person Double
The Sunnydaze Brazilian Hammock model here, like other models, offers the relaxing cocoon environment this type is known for, while also coming with a convenient stand. The hammock itself comes in a variety of colors and styles, though like the previous model, this one has few additional aesthetic details. With this model, you'll at least get a better deal than you would purchasing the hammock and stand separately. However, couples looking for a hammock might need to take this model's lower weight limit into consideration.
Features of the Sunnydaze Cotton Double Brazilian Hammock & Stand Combo
Hammock Length (loop to loop): 132 inches (11′)
Bed Size / Resting Area: 98 inches X 59 inches (8'2″ x 4'11")
Weight Limit: 475 pounds
Hanging Methods:

stand included

.

100″ long x 40″ wide x 42″ tall
400-pound weight limit
5 adjustment settings, supporting hammock sizes between 10 and 12.5 feet
La Siesta is responsible for a couple of the most appealing Brazilian hammocks we've seen. This Brazilian Organic Double Hammock model is another extremely comfortable, durable design, and it also aims to please visually with macramé and fringes. It also comes in four different color options, three of which are very vibrant and cheery. We found it suprising that, despite the fringes and build materials, this one is machine-washable. It's great should you find your hammocks get dirtied or smell after extended use. It's generally much pricier than the previous models mentioned, and also supports much less weight than the previous two models.
Features of the La Siesta – Brazilian Organic Double Hammock
Hammock Length (loop to loop): 138 inches (11'6″)
Bed Size / Resting Area: 91 inches X 63 inches (7'7″ x 5'3″)
Weight Limit: 355 pounds
Hanging Methods:

none included

(minimum required distance for hanging: 10'2″)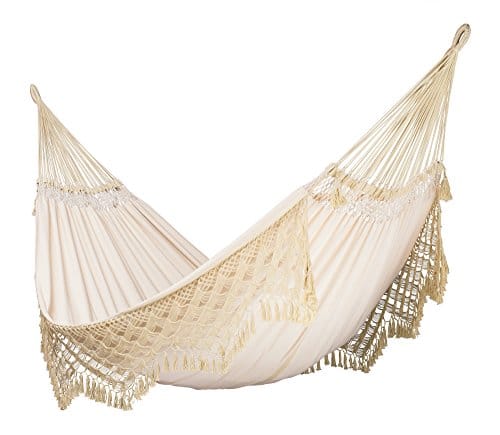 La Siesta's second Brazilian hammock on our list of reviews also happens to be the most attractive option in the bunch. As you should expect by now, this hammock shares the comfortable hugging design Brazilian hammock fans love, bringing the quality relaxation you'd expect of other Brazilian hammocks. This one, like the other La Siesta model, features fringes (which are beautiful, I might add) and macramé (impressive to behold) at the rope support ends. Besides being the most visually pleasing of the hammocks by design, this one also supports up to 440 pounds. This may fall short of one's expectation of "Family" hammock weight support, but this is still a great choice for a couple's romantic resting place!
Features of the La Siesta –
Brazilian Organic Family Hammock BOSSANOVA
Caribbean Hammocks – The Top 3, and Why You'll Want Them
Caribbean hammocks have been in use for the last few centuries. They offer something that cotton or nylon hammocks don't; they offer resistance to rotting, mold and mildew. They are made and spun from polyester, and they come with wooden bar spreaders, and you will most likely need a stand for you to be comfortable. They are robust and durable because of the polyester material used to make them. The polyester is usually tightly knit and woven by hand to increase your comfort levels.
3 Reasons Why You Need a Caribbean hammock
Resistance to Weather/Elements
These hammocks are resistant to weather elements as well as mold, rotting and mildew. Cotton and nylon hammocks require special care to ensure that they are not worn down by the said elements.
Vigorous and Durable
Polyester hammocks are strong and durable. The polyester is stronger than the cotton, and once you spread the hammock using the spreader, the suspension is stable and comfortable.
Carries More Weight
Polyester hammocks carry more weight than the average cotton hammock. Most Caribbean hammocks can take two or more adults depending on the size, as polyester is very sturdy.
Qualities to Consider When Buying a Caribbean hammock
The stand
Most Caribbean hammocks require a stand to set up. When purchasing a hammock, you must take into account whether it comes with a stand and whether the stand is sturdy enough to support your weight. If the hammock does not come with a stand, you need to make or buy a stand that fits the dimensions of the hammock.
The weaving style
Since the bed is made up of polyester material you will need to purchase a tightly knit hammock with spun polyester. If the hammock is hand woven, it tends to feel softer and more comfortable. If the spun polyester bed is not tight woven enough, the hammock tends to stretch out. If it is not tight enough, you may run into an issue with the hammock bottoming out, depending on how tall the stand is that it's hanging from.
The quality of spreader bar and stand
The spreader bar and stand should be made from hardwood. They should be coated with varnish to protect them from weather elements.
Weight limit
Know what you need first and then buy the hammock that can hold the amount of weight you want.
Where To Buy A Caribbean Hammock
We've done the searching and narrowed your list down to the best Caribbean Hammocks on the market. Take a look!
This is one of the best Caribbean hammocks on the market right now. It is 55 inches wide and can support up to two adults, which means it can hold six hundred pounds. The hammock has a spreader bar which comes with a marine varnish to increase its durability from any weathering. This hammock is hand woven and tightly knit to provide a comfortable and stylish hammock. The polyester material provides a durable hold even in strong weather conditions.
Pros
It has a rust resistant stainless steel
The spreader bar is heavy and strong
Can comfortably support two people
The polyester bed is dense and tight making it very comfortable and relaxing
Weather resistant
Cons
It does not come with a stand, so you have to buy your stand.
It can get a bit stretchy, and this is bad if you do not have a taller stand
It weighs 17 pounds which can be heavy for hikers
If you are looking for a Caribbean hammock that is both affordable and highly comfortable, then you should try the Prime Garden Two Point Tight Weave Caribbean. It is a large hammock that can hold up to 450 pounds which means it can support two people. The ropes are a hundred percent polyester, and it has a 51-inch wood spreader, that's over four feet wide from side to side.
Pros
Decent size at 51" wide
It can support two people
Polyester rod is resistant to mold and rotting
Cons
Does not come with a stand
This vintage looking hammock comes with bonus features, unlike most Caribbean hammocks. It has two hardwood spreader bars and a stand that is 12-feet with a wooden frame carved from Russian pinewood and coated with varnish. It comes with a matching weatherproof pillow, a nice extra add on to have. The fabric used is soft polyester rope woven tightly to provide a comfortable feel. This hammock looks stylish and oozes with elegance because the stand is a wooden arc frame coated with an outdoor finish.
Pros
It comes with a breathtaking stand.
Comes with two spreader bars making it more comfortable
It is simple to set up
Comes with a weatherproof pillow
It is very comfortable since the polyester is tightly woven.
Cons
The strength of the stand is questionable
Weight limit of only 300lbs
Conclusion
Caribbean hammocks are nearly identical when it comes to features; they need stands and spreader bars, and are all made of polyester material. When you want to try your first Caribbean, then you should start somewhere simple and uncomplicated like the Prime Garden Two Point Tight Weave Caribbean Hammock. If you need a larger hammock, then you should buy the Jumbo Caribbean Hammock. It is simple but at the same time broad enough to support you and your partner. If you have fallen in love with the Caribbean hammock, then you should go for something more elegant, and the ALGOMA Wooden Arc Frame Caribbean Hammock is the one you should try.
---
Mayan Hammocks: The Three Best Reviews
The Mayan hammock has been around for more than 800 years. The origin of this comfortable woven hammock is not clear, but the Mayans made it famous. The hammock acts as a means to provide comfort when sleeping and also providing some protection from animals and dangerous crawling vertebrates. The very first hammocks were from sisal plants, and later tree bark was used to manufacture the fibers in order to make some of the best Mayan hammocks around at the time.
What makes the Mayan Hammock Different?
The Mayan hammock provides the best floating comfort and ventilation which is important in hot weather and warmer climates. If you take very good care of it, it can last up to a decade as it is more durable than other hammocks. It has thinner strings than the other hammocks. Cotton Mayan hammocks are more comfortable than nylon hammocks. Nylon hammocks are more resistant to elements of weather and are stronger making them durable. Mayan hammocks are brightly colored and are usually hand woven; they often take up the shape and the size of the person sleeping on them. These hammocks are comfortable to carry and are made up of natural materials. They have looser stitches which make them very flexible and breathable. The strings are durable but can easily be damaged by buttons or zippers.
3 Reasons you need a Mayan hammock
They're Light in weight
Mayan hammocks are usually lighter than most hammocks, this is the reason why most hikers prefer using these hammocks.
They're Comfortable
Mayan hammocks are very comfortable. Most are made up of cotton while others are made from nylon. A combination of nylon and cotton ensures comfort and strength. Mayan hammocks are very flexible, yet will not stretch out, which means that you typically will take the shape of the hammock while lying in it.
They're Durable
With proper care, the hammock can easily last for up to ten years. They are strong and very durable; they do not stretch out meaning that the comfort levels do not reduce.
3 qualities to consider when buying a Mayan Hammock
The Material
When purchasing a hammock it is important to weigh what you need the most, durability or comfort. Cotton hammocks are more comfortable than nylon, but nylon hammocks are stronger and resistant to elements of weather.
Size
you should know the hammock you are buying whether it's for one person or a whole family. Always make sure to consider the maximum weight the hammock can hold.
The Make
When buying a hammock find out whether it is handmade or manufactured. Handmade hammocks are more comfortable as they tend to give more attention to detail.
So What Mayan Hammock Options Are There?
We've taken a look at the market and found the following Mayan hammock just waiting for the perfect owner!
This handwoven Mayan artisan hammock is excellent. It is soft, and it is weaved to take the shape of your body, which provides a gentle rocking effect for increased comfort and relaxation. It is multicolored which means that it is very aesthetic. The Mayan artisan made hammock can support up to 550lbs.
Pros
Stylish and elegant
Handwoven which means that the attention to details is outstanding.
Machine washable
Strong and durable
Cons
Requires trees to be 13ft to 15ft apart for maximum comfort.
Over exposure to moisture can make it weak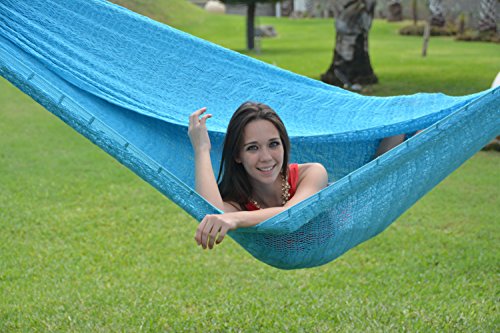 This hammock is meant for the family. The bed, or woven part of the hammock, is made from cotton, and the arms are made from nylon. The cotton provides comfort while the nylon provides the strength and weight resistance you will need for multiple people to use it at the same time. It comes in a multicolored option or a solid color. It can support up to 652 pounds which makes it suitable for a family of 1 to 3 people.
Pros
It is family size, so it is appropriate for the family
It is strong; the nylon arms ensure that it holds the designated weight limit
The cotton bed makes it very comfortable
Vibrant colors
Cons
The weight limit is 652 pounds, so realistically it would only fit a family of 3-4. This might not be an issue for everyone
This hammock is larger than the traditional Mayan hammock. It is 90″ X 157″ and is suited to a 15 foot stand. This hammock is handmade in Mexico, and it is woven exactly like the traditional Mayan hammock. This hammock is very comfortable and is big enough to hold at least 880 pounds. The bed part is woven using cotton making it very comfortable. The suspension arms of the hammock are usually made of nylon, which makes it strong enough to resist the weight. This Mayan hammock can also fit the whole family.
Pros
It is enormous and comfortable.
Supports up to 880 pounds which make it suitable for the entire family.
Durable construction
Can be used indoors or outdoors
Comes in multiple colors
Cons
Must be protected from outside weather elements if used outdoors
Note the stand is not included
Conclusion
Mayan hammocks are usually more comfortable than ordinary hammocks. If you are considering buying a Mayan hammock and you have no idea where to start, then start by buying the Handmade Cotton Hammock. It comes in different sizes, so you should be able to find the right size for whatever situation you will use it in. The Mayan Hammock Family Size is suitable for anybody with a small family as it can support two adults one or two children depending on the weight of the adults. If you have a larger family and are looking for a family hammock, then you should try the XL Thick cord strong Family Mayan Hammock.
---
Nicaraguan Hammocks, Top-Rated Reviews
All hammock lovers know that there is only one hammock that provides the ultimate comfort, and that is the Nicaraguan hammock. The Nicaraguan hammock was invented a thousand years ago by Central American natives. This work of art was conceived by crafting the barks of a tree and weaving the web that was suspended on trees to offer protection from snakes and other crawling things. Over the years people have come to realize the comfort in Nicaraguan hammocks.
3 reasons why you need a Nicaraguan Hammock
Comfort
There is nothing more comfortable than sleeping on a suspended weave of cotton (the Nicaraguan hammock). They are comfortable, and you will not wake up with any part of your body aching.
Hand woven
The best Nicaraguan hammock is always hand woven. It implies that every detail is a craft to perfection, and this means that you will achieve a deeper sleep than normal.
Cotton
Most Nicaraguan hammocks are made up of cotton, and this means that they make it very easy for you to fall asleep. You may occasionally see Nicaraguan hammocks made of nylon.
3 qualities to consider when buying a Nicaraguan hammock
Mode of manufacturing
There is handmade Nicaraguan hammocks and machine woven. Handmade hammocks are typically more comfortable and durable than the machine woven.
The Fabric used
Most Nicaraguan hammocks use cotton as the main fabric, but there are some that utilize nylon. Cotton hammocks are more comfortable than nylon ones.
Elasticity
When it comes to hammocks you want the one that does not stretch out. It makes sure that your body stays in the same place while sleeping and ensures that you won't wake up with body aches all over.
So Where Can I Find One?
You are likely wondering where to find a Nicaraguan hammock. Well, here's our recommendation for a great Nicaraguan hammock!
When it comes to Nicaraguan hammocks, then Nicamaka Family Hammock is the one you should consider buying. It is 100% cotton, and it is vast and handwoven. Of all the Nicamaka hammocks on the market, this model is the largest. It is very elegant and classy looking. This hammock is all about comfort and style. The hammock has a fringed coverlet border crocheted by hand, and this gives it a different and refreshing look. This hammock is suitable as a decoration in your house while still providing you with maximum comfort and relaxation.
Pros
With a hanging length of 15 feet, it can be used outdoors or in your house.
It has a tight weave which means that it does not stretch out.
The hammock bed is large which makes it very comfortable to sleep in. It can even fit two people.
It's pretty simple to set up.
It is elegant, beautiful and well designed.
Made up of a hundred percent cotton which makes it very soft and comfortable.
Cons
Does not come with a stand, so you'll have to determine how and where to hang it.
It is slightly heavy for a hammock, weighing around 11 pounds.
Conclusion
This hammock has it all. It is elegant, comfortable and multipurpose. If you are willing to spend a few more bucks to get maximum relaxation and comfort, then this is the hammock you should buy. It looks amazing, can be used indoors or outdoors and is very durable. The fact that it is hand woven means that the attention to detail is outstanding, and the cotton fabric makes the bed very comfortable. It is large enough to fit two people so if you want to relax with your partner close to you then buy it. Unlike most hammocks that claim to be Nicaraguan, this is the exact definition of the Nicaraguan hammock.